Over ons
Stichting Bert Marijne's Legacy ondersteunt jongeren die hun talenten ontwikkelen om van betekenis te zijn voor de maatschappij.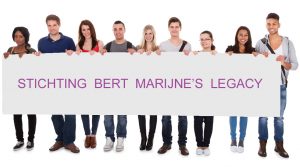 De Stichting is vernoemd naar Bert Marijne. Op 16 oktober 2008 overkwam Bert een zeer ernstig bedrijfsongeval. Na langdurige behandeling en revalidatie is hij helaas met ingrijpende en onomkeerbare fysieke en psychische beperkingen opgenomen in een verpleeginrichting.
Samen met andere familieleden is besloten om een deel van zijn vermogen onder te brengen in de stichting die naar hem vernoemd is. De middelen worden aangewend voor een goed doel dat Bert zeer na aan het hart ligt, het ondersteunen van jongeren in het onderwijs en jongeren die bezig zijn met sociaal-maatschappelijke projecten.
Wij doen dat met eenmalige bijdragen voor collegegeld, studiemateriaal of projectkosten. Zo stimuleert Stichting Bert Marijne's Legacy jongeren en jongvolwassenen om te studeren of zich in te zetten voor sociaal maatschappelijke projecten voor jongeren in geestelijke nood.
Kunnen we iets voor jou of jouw project betekenen? Doe de scan.
Of lees eerst meer in ons beleidsplan.